What do we do and how does it work?
Are you a B2B business? And is LinkedIn a fundamental part of your marketing and new business development activities? Well it should be, almost certainly! Without a doubt, LinkedIn, done well, can dramatically improve marketing and sales performance.
This program has been written with the primary aim of improving how businesses utilise LinkedIn (and the associated products like Sales Navigator) as tactical and operational platforms that integrate into your overarching marketing and sales strategies and plans.
It has been written with the intention to simplify and demystify LinkedIn, without any jargon that will allow people to maximise the reach of their brand and generate leads that turn into customers, that keep coming back. We will build the knowledge and expertise in your teams so they can take ownership and responsibility that will drive business performance.
So, here's how it works in a nutshell.
We first understand your business model and level of expertise, your brand, your customer base and the competitive landscape. If you're an existing business we work with we'll already know this, if you're new to working with us we need to spend some time getting these details. We can do this over the phone or on a video call.
Once we understand these details, we'll bespoke the program to suit your business but the overview below highlight the key elements. The program is designed to include both peer-to-peer and individual learning opportunities as we believe this is the optimum way to embed this into your business.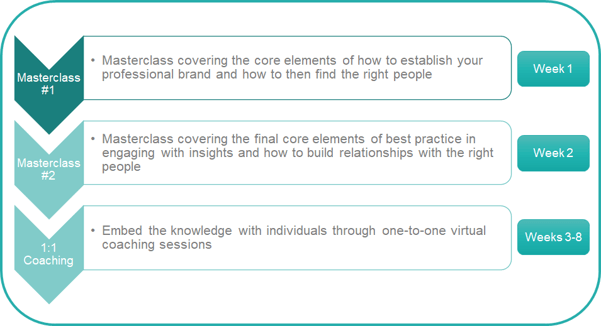 What you will learn
How to develop a LinkedIn strategy
How to complete your profile with your customers in mind
How to identify better prospects in less time using efficient search and research tools and then how to turn them into customers
How to discover and share conversation-worthy updates to create and grow relationships
How to strengthen your network by connecting and establishing trust with decision makers
How to grow your business using the power of LinkedIn and Sales Navigator
What you will get
6 hours on-demand video of the masterclasses that we deliver face-to-face or virtually
Our LinkedIn best practice Playbook that will be a fundamental part of the 8 weeks program and a reference book to look back and build on
Free templates, scripts, cheat sheets, hints, tips that have been tested and honed by our own team
On-going access to updates and our latest thinking to ensure you are always up to date
Someone to phone, email or text when you have a question after the program is completed