This Linkedin Booster training program has been written with the primary aim of helping you improve how you utilise LinkedIn within your business (and Sales Navigator) both operationally and tactically, so that it integrates seamlessly into your broader marketing and sales strategy.
This course will provide you with unlimited access to each of the 9 modules of training, which you can complete virtually at a convenient time, so you can complete the series within a week or take several – it's really up to you!
Our aim is to help simplify and demystify LinkedIn, removing the confusing jargon, and show you how you to maximise the reach of your brand and generate leads that turn into profitable customers, who keep coming back. We will build the knowledge and expertise in your teams so they can take ownership and responsibility that will drive business performance.
Our proven 21-step program using 9 Modules will teach you how to:
Master the LinkedIn Account Settings no-one ever explains but that will significantly affect your client generating efforts.

Create a LinkedIn Profile that builds your personal brand and predictably attracts potential clients according to keywords.

Create LinkedIn Traffic that's exposed to your brand and business every day.

Master LinkedIn Content as the universal language so you don't commit the biggest marketing sin - being boring!

Use LinkedIn Activity Measurement and Management principles that will stop you from wasting valuable time.
The 9 Modules include :
Module 1 - Power Settings
In this module we will work on your Account settings, Privacy settings a well as your Communication settings.

Module 2- Power People

We will help you to identify your Power Person by understanding what your story is and how to get your Power Person to find you.
Module 3- Power Profile
Your profile is the most valuable real estate you have – even more than your website! It's your one chance to make a great first impression. We will work on The above-the-fold, three-second attention grabber; The About Us and Experience Sections - what goes where to ensure they grab attention quickly and how using recommendations and endorsements will improve your credibility and trust factor.

Module 4- Power Pages
Your LinkedIn Company Page is the supporting act to your Personal Profile - we will show you how to use it to add to your credibility and lead generation.
Module 5- Power Process
In this module we work on mapping the exact lead generation process we use in our business and for our client's businesses every day.
Module 6 - Power Traffic
There's no point in connecting with your ideal client if you're not able to drive them to your profile and page - this is where together with your messaging, they decide whether or not to do business with you!
Module 7 - Power Messaging
Messaging should assist you in starting a dialogue, building a relationship so that you can take the conversation offline. You can't do that if your messages aren't being opened!
Module 8 - Power Content
We will work on mapping out your content strategy, how to write content that results in the Know, Like and Trust factor and Content Tools to make your life easier.
Module 9 - Power Measurement
The saying goes - what you can't measure, you can't manage. Learn the LinkedIn Activity Measurement and Management principles that will stop you from wasting time, and help you identify what to change when you don't get the desired results.
Included in the program is :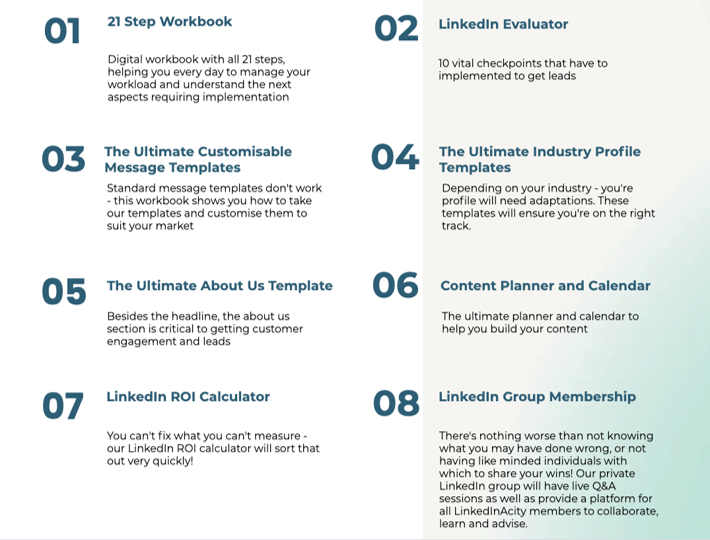 This online course will be accessible through a password controlled account and will provide you with unlimited access to the course and its contents, for the price of

R4,975 excl Vat.

(Total incl VAT is R

5721.25

)