This exercise will help you figure out what's changed since the COVID crisis began. It's designed to help you understand the wider context - we'll get into the detail later on - so try to keep your observations high-level.
Think about the trends and shifts that are taking place. Specifically, what are the changes that could or will have a direct impact on your business, customers, competitors and industry?
We've included a few prompts to get the ball rolling, but you'll want to include your own as well.
This is a quickfire exercise. Don't spend too much time trying to think of every single thing that's changed. Jot down headlines and then move on.
We've also included a couple of reasons to be cheerful - thankfully, it's not all bad news!


Political changes:
How has the political context changed for your business?
Immediate impact of the lockdown on society.

Likelihood of higher taxes for consumers and businesses.

End of government support as we move out of the emergency phase.

The phased transition out of lockdown, with some industries starting earlier than others.

Reason to be cheerful: less political polarisation.
Are there any other political changes that might impact your business, industry, customers or competitors?
Economic changes:


What are the economic changes that will impact your business or market

?
Customers, businesses and competitors are spending less.

Likelihood of a recession.

Budgets will be focussed on ROI, efficiency and productivity.

Increased focus on agility, scalability and being nimble.

Many businesses will fold, releasing their customers into the market.

Discretionary or luxury spending will fall.

Reason to be cheerful: markets will shift as businesses adapt, creating new opportunities.
Beyond these macro trends, how might other changes in the economic landscape impact your business, your industry and your customers and competitors?

60% of businesses have discovered new ways of working that they might use after the lockdown ends -
Econsultancy
Social and cultural changes:


How might your business be impacted by changes in our social and cultural and behaviour?



Reevaluation of core values and purpose.

More of a focus on family and key relationships.

More willingness to seize the moment.

Increase in working from home.

Far less international travel.

Less patience for commuting or attending unnecessary meetings.

Some habits returning to normal as people return to work.

Reason to be cheerful: people will focus on the things that really matter to them.
What other social and cultural changes you can think of that might impact your business, industry, customers or competitors?


Just 10% of consumers expect things to 'return to normal' -
Marketing Week
Technological changes:
How might recent changes in how people use technology impact your business?
Massive increase in online shopping and selling.

Video conferencing has become the norm.

Consumers will expect smooth digital experiences from now on.

Businesses more reliant on digital channels.

Reasons to be cheerful: technology has brought us closer together.
What other technological changes can you think of that might impact your business, industry, customers or competitors?


Retail email open rates are 40% higher than pre-COVID - Econsultancy
45% of consumers spending more time on social media - Econsultancy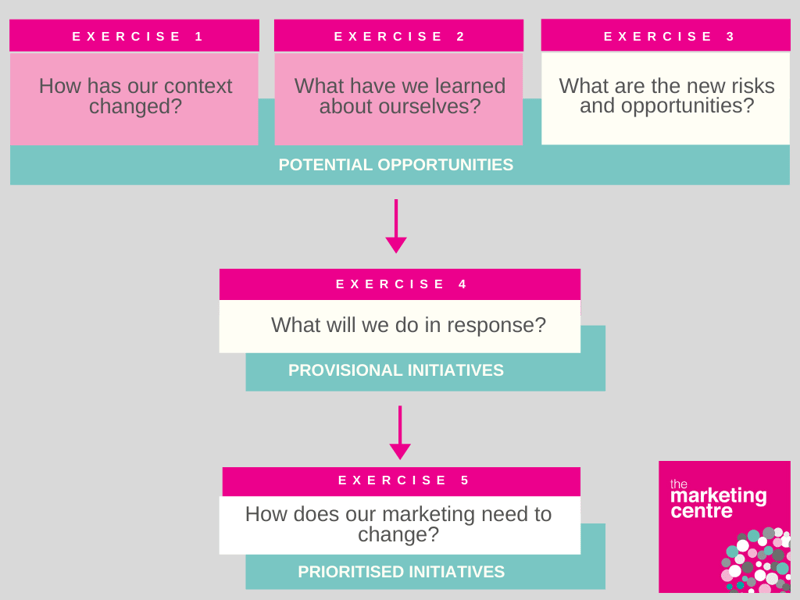 Almost every business will have had to change the way that they work during this crisis. Many of us have realised that some things we were doing before weren't necessary, or that things we've had to try have proven beneficial.
It's important that we learn from this. Doing things the same way we did them before would be a missed opportunity for growth and innovation.
The RSA published a really useful exercise that will help you understand how your behaviour has changed and what you can learn from that:
Amplify: We tried these things and they showed signs of promise.
Let go: We had to stop these things and realised that they weren't benefiting us.
End: We started these things to respond to the crisis but won't carry them on.
Restart: We've had to stop these things because of the crisis but now want to start them again,
To complete this exercise, start by making a long list of all of the things that you've started or stopped doing in response to COVID-19. Then take each of those things and drop them into each of the four groups.
Once again, these were:
Amplify

Let go

End

Restart
Try not to get bogged down in making decisions about the future now - that comes later. For the time being, just group your new behaviours under the four headings and move on to the next exercise.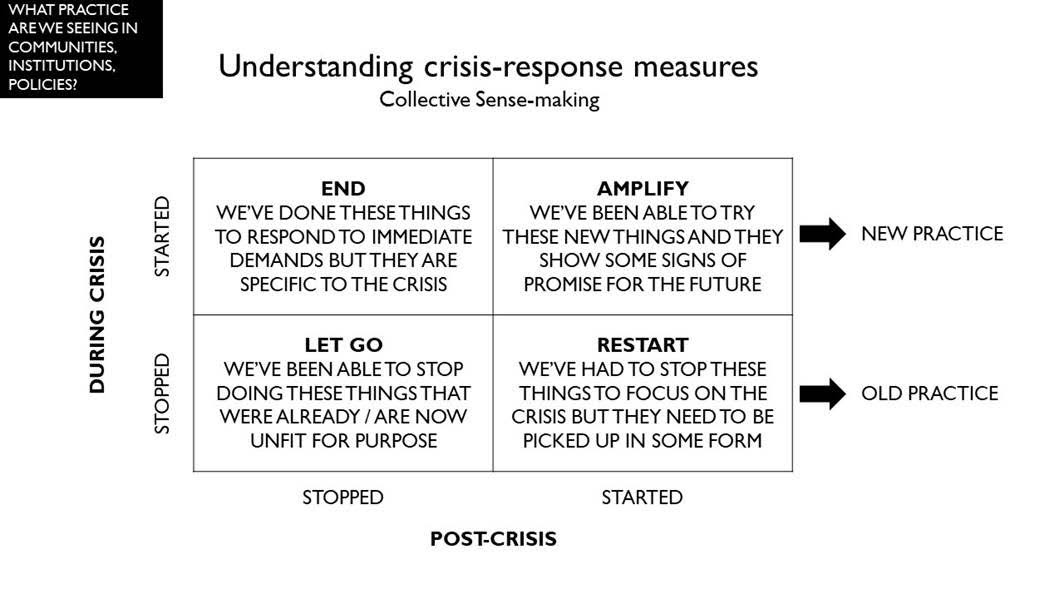 Now that you've established the wider context, you need to understand how these trends relate to your business.
A SWOT analysis will highlight your strengths, weaknesses, opportunities and threats.
You may have already done one of these for your business in the past. Even so, now would be a good time to repeat the process. Make sure you consider the trends identified in exercise one and any important learnings from section two.

As you consider all this, remember to capture the potential actions you could take in response to your strengths, weaknesses, opportunities and threats. Add these to the list of potential solutions that you've been building throughout these exercises.
Strengths
What unique skills, assets or resources do you have?
Where are the areas that you have seen success in the past?
Weakness
Where do you lack resources, staff or skills?
Where have you struggled in the past?
Opportunities
Are there any changes in your market which might be beneficial?
How can you turn your strengths into opportunities?
Can you capitalise on any of the trends highlighted so far?
What other opportunities are there at the moment (remember to consider your competitors, customers and partners)?
Threats
Are any of the changes in your market likely to harm your business or put it at a disadvantage?
How might your weaknesses harm your business?
Will the trends highlighted so far negatively impact your business?
What other threats are there at the moment (remember to consider your competitors, customers and partners)?




You will probably have come up with a wide range of different strengths, weaknesses, opportunities and threats, some more significant than others.
As a final step to this exercise, highlight the ones that you think will have the most impact on your business, your customers, partners or team.
These are the changes that you will carry forward to use in future exercises.
These exercises will have given you plenty to think about. You now understand how your context has changed, how your behaviour has changed and how those things relate to your strengths and weaknesses.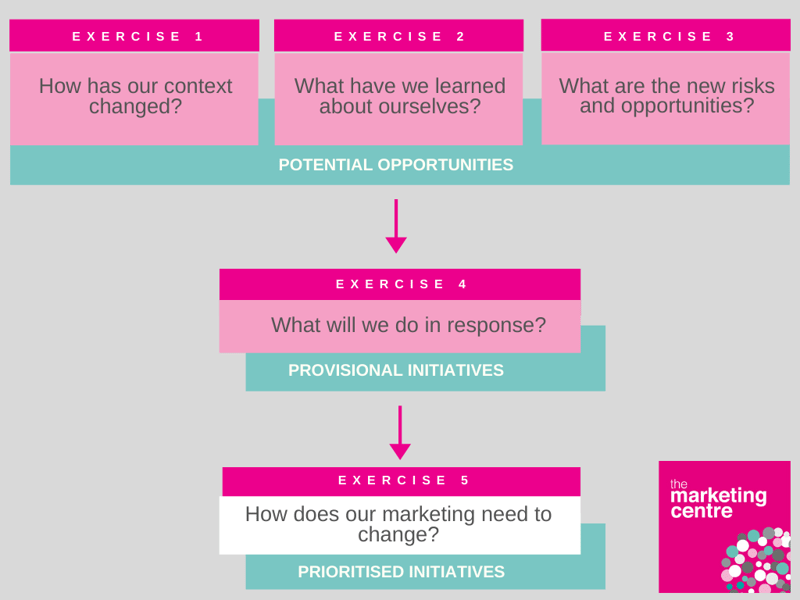 It might be the case that you've got this far and realised that you're already in a pretty good place and your list of potential new initiatives is blank. In which case, great job!
But most people will probably end up with quite a few potential opportunities they could develop in response to their new situation. Some will be more important than others.
You now need to identify and commit to a few strategic initiatives that will make the greatest difference to your business. Don't attempt them all.
You may want to use an impact / effort matrix to prioritise your goals. This matrix will help you identify the tasks which will deliver the most impact. Some may require very little effort, while others might take a sustained investment of time and resources.
To complete this exercise, assign each of your initiatives to one of the four quadrants and then select the initiatives from the top row that you feel most committed to.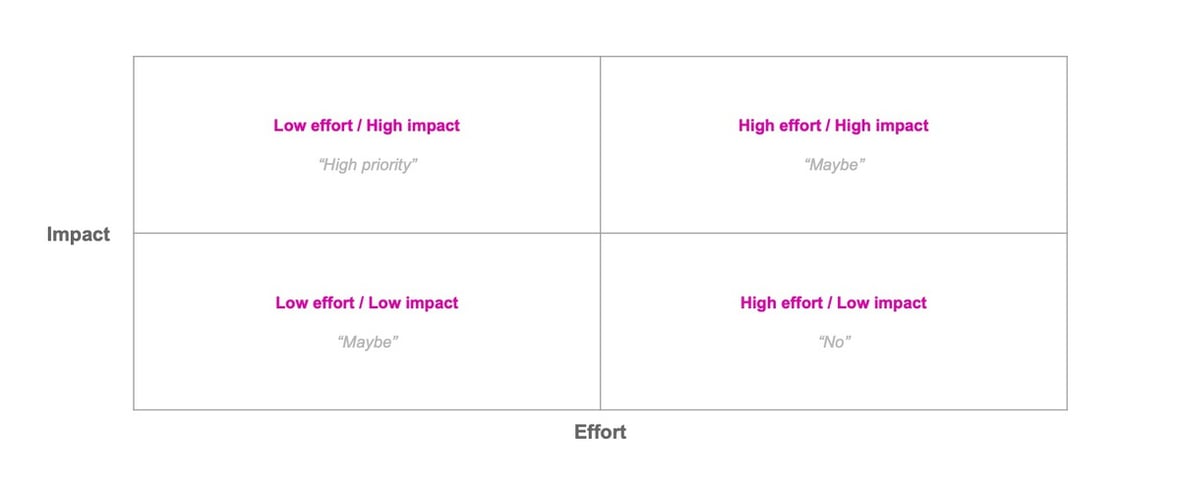 You now have a provisional list of new strategic initiatives. We say "provisional" because you will wish to revalidate this list when we've examined it in a little more detail in the next exercise.
Now you can commit to them as goals with a clear timescale.
For instance:
"Build a new website capable of supporting our expanding ecommerce requirements within the next three months"
"Revise our pricing strategy for our offerings within the next month"
"Develop a new proposition and go-to-market strategy that we can launch within the next month"


⚠️ Don't overlook this step: Taking what you've learned and turning it into a strategic goal is a great way to commit to a course of action. Otherwise you may miss this vital opportunity to innovate or adapt to the current situation.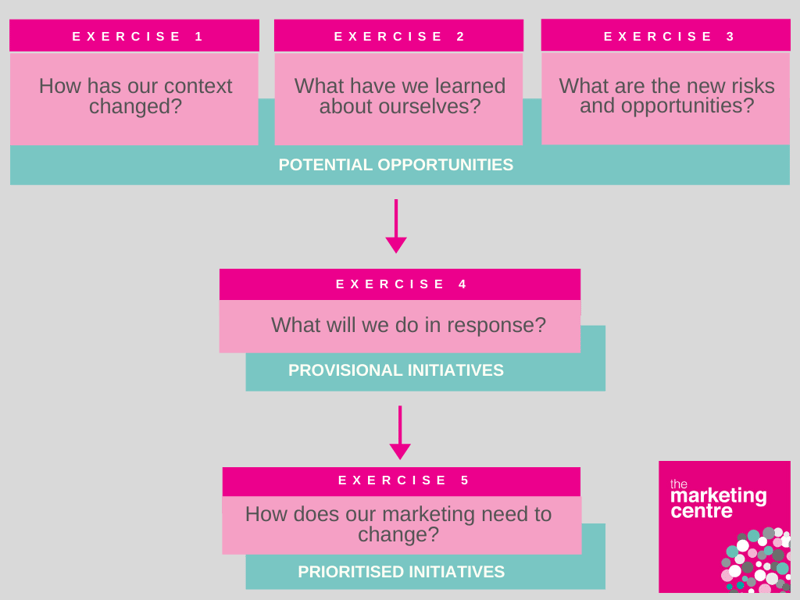 The Marketing 360 is The Marketing Centre's comprehensive approach to help you evaluate every aspect of your marketing and identify areas that are in need of a rethink.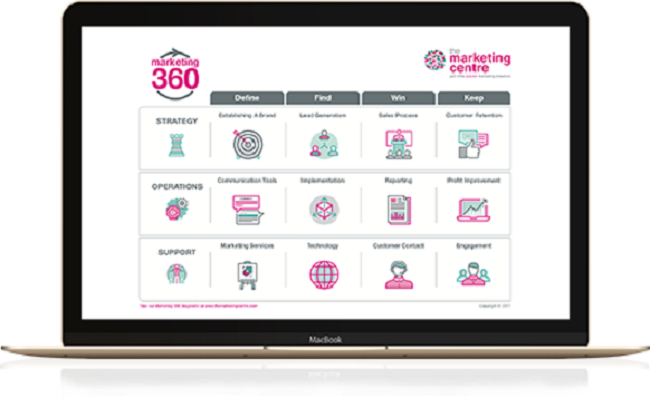 The full Marketing 360 tool can be found here. For the purpose of this exercise we will limit our focus to the four core pillars of marketing.
Define: Know what your potential customers look like, and what your product or service can do for them.
Find: Identify ways to target them,customers based on their behaviour and habits.
Win: Devise strategies to close sales and create customers.
Keep: Monitor customer churn (loss) loss and create retention activities to remedy it.
To complete this exercise, answer each of the questions in the following four sections.
Keep your new strategic initiatives in mind as you answer them. This will help you understand whether your marketing is able to deliver your initiatives and what you may need to change.


1 - Define
As the saying goes: "no plan survives first contact with the enemy."
It's likely that your existing marketing plan will need to be reviewed to support your new initiatives.
Here are a few questions you can ask yourself to understand whether your brand, propositions, comms plan and partners are still fit for purpose.
For each question, try to answer with a 'yes', 'no' or 'maybe':
Does our brand proposition need to be refined or updated?
Do we have the customer, competitor and market research to support our new initiatives?
Are there financial targets and forecasts for the new initiatives?
Do we need new marketing channels or routes to market?
How have our target markets or customers changed?
How does our messaging need to evolve?
How can we tailor our communications plans to the situation?
Do we have all of the skills we need within the team?
Do we need to review our agency partner relationships?
Is our website fit for purpose?
2 - Find
Once you've laid the groundwork, you need to start generating demand and creating opportunities for your sales team to convert.
Here's a list of questions you can ask yourself to understand whether you need to update your lead generation processes or the technology you use:
Are we able to generate sufficient leads to meet our growth objective?
Do we need to make changes to our existing routes to market (eg Events)?
Do we have the team and resources that we need to support our proposed initiatives?
Does our CRM and contact data sufficiently support our prioritised initiatives?
Have we noticed a drop or an increase in engagement levels with our marketing activity?
Does the way that we use our website or social media need to change?
Does our website and social media approach sufficiently support our prioritised initiatives?
Should the initiatives be piloted before full roll-out?
3 - Win
Generating leads is one thing, converting them is another.
Here are a few questions you can ask to understand whether you need to update your sales processes, how you measure success and the steps you take to remain compliant:
Do our sales materials need to be updated?

Are our sales and marketing teams in alignment and working well together?

Do we have a pricing strategy for our new initiatives?

Have we got marketing KPIs to support our new initiatives?

Do we need to revise our marketing budget?

Do the objectives we set our agency and support partners need to change?

Is there any new legislation that we need to respond to or be aware of?
4 - Keep
Finally, let's look at how well you retain customers and whether you make the most of opportunities to cross-sell or upsell.
Here are a few questions that will help you understand whether your customer retention processes need to change:
Are we identifying at-risk customers and taking steps to retain them?
Have we identified our most profitable customers and made a plan for them specifically?
Do we need to review our pricing to optimise profitability?
Do we have a mechanism to measure customer satisfaction for our new initiatives?
Can our customers communicate with us in a way that is best for them?
Having explored your potential new initiatives in a little more depth, do you still think they are the right choices?
Time spent considering this thoroughly now will increase your chances of successfully launching your new initiatives and achieving your goals.
The exercises in this guide will have helped you understand your wider context, where the opportunities are and whether your marketing is set up to support you.
You now have the beginnings of an action plan - but remember, a plan is only useful if it's effectively implemented.
To make it actionable, you need to decide who is going to do what and when, then have regular reviews to hold people accountable for their progress. Plans are important, but only if they are executed.